items
Lubricant Re-production Project
Writer:Nengxing time:26/09/2021
Lubricant Project Introduction
Description
Shenyang Nengxing Technology is a high-tech manufacturer integrating with R&D, production and sale for designing and manufacturing energy-saving, emission-reduction, low-carbon environment-protection facilities.
Various kinds of waste materials like straw, waste engine oils, waste tires and plastics as the raw materials can produce gasoline, diesel oils, base oils(use for lubricant), carbon black, fertilizer, steel wire through Nengxing's pyrolysis equipment with unique reversing process and patent cracking technology without any smoke, smell, secondary pollution, and three waste discharge.
Base oils are the main important component, accounting for the biggest ratio. Based on the good and increasing prospects of lubricants, Nengxing designs the full processing line specially for lubricant producing, which can meet the high requirements from foreign and domestic clients.
NX has owned international many leading high-tech energy projects and technologies like straw, waste tire and plastic, waste lubircant refinery, completing developing, producing sale for environment-protection facilities of nano carbon black reduction, energy reengineering, oil purification, pyrolysis catalyst, microemulsified fuel, ethanol gasoline, water diesel, shale oil, alcohol, brewing, beverage.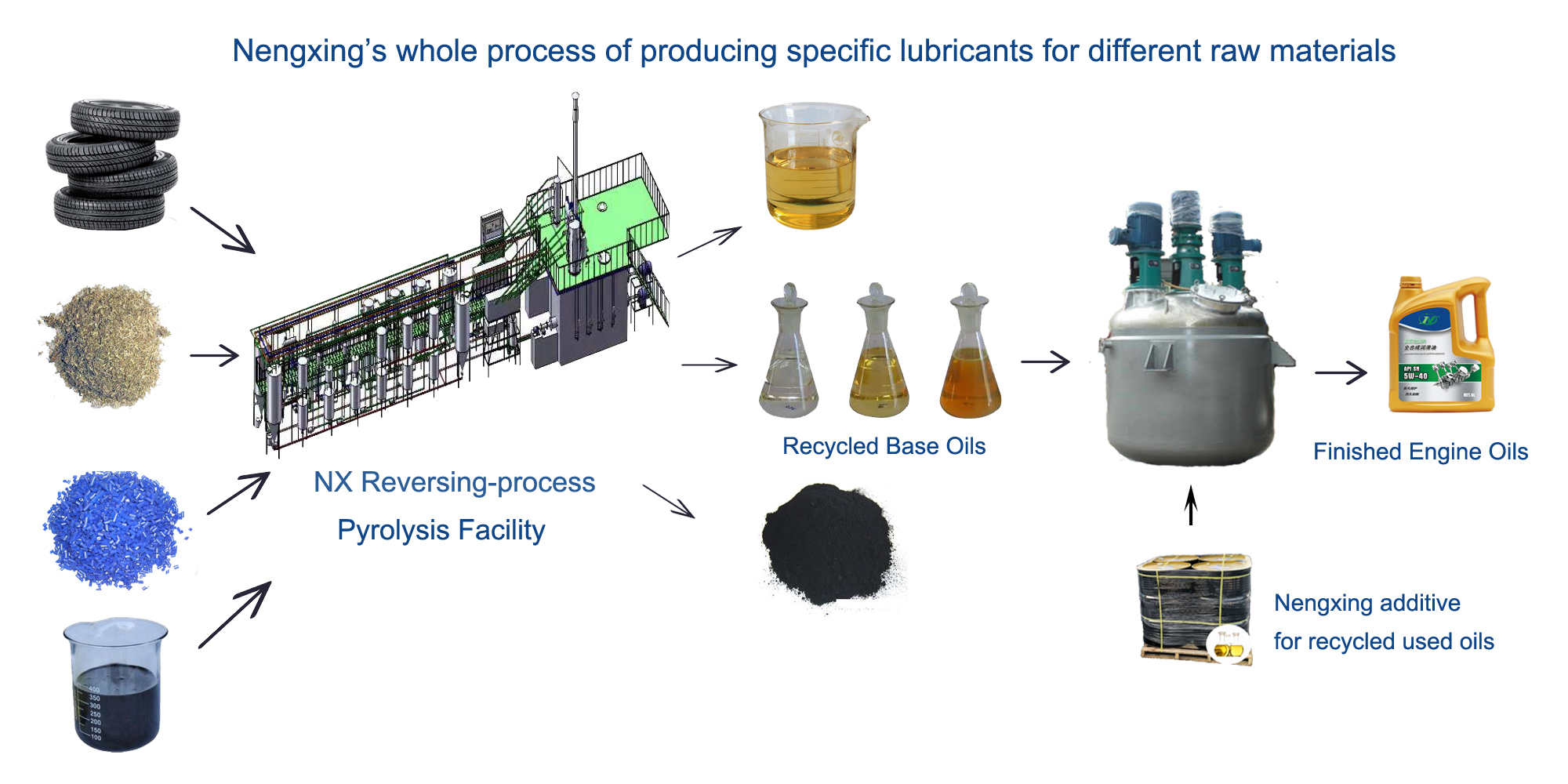 Key Performance Benefits of Production Equipment included
----Pyrolysis equipment based on kinds of waste garbage as the raw materials
1. Patent technology- reversing process
Self-developed patent of unique reversing process is the first one in the world, which has many excellent performances including fast oil producing, 6 times higher reaction speed than other processes, the oils refined can never reverse colors.
2. Environmental protection performance
No pollution in the whole process of dealing with garbage, dangerous and solid waste materials.
Environmental protection performance with no smoke, no taste, no secondary pollution, no other noise,and no waste discharging, environment-protection system with scientific treatment for waste residue, waste gas and waste water
3. Energy saving proformance
No extra external energy is needed during the process, which can greatly shorten the transition period, enlarge the catalog range of raw materials, and saving the production cost.
4. This facility can be continuously Computer controlled, applicable in the large-scale production
5. Special tube-kettle type design
Nengxing's equipment installs the advanced fractionating towers with special tube-kettle type Catalytic pyrolysis construction without any catalyst, which can outlet the oils from various tubes. The oils that outlet from various pipelines and gradients have transparent color with different grades, never everse colors, which can be directly used in many kinds of vehicles.
Professional technical team
1. Specific lubricant additive supply
Lubricant is formulated with base oils and additives. Nengxing has many-year lubricant blending experience, we are professional in customizing the formulation of additives based on API quality and viscosity grades from clients' requirements with more competitive prices and best quality
2. Blending facility design and supply
Nengxing can provide the most economic and environmental protection facilities and completely consider from clients' point of view
Most reliable after-sales service
Nengxing has a professional after-sales, QA and QC team, and we can solve the problems once finding problems. Nengxing promises we are always responsible for our customers no matter once order or many ones, providing customers with the most reliable guarantee.
Market prospect
Nengxing can provide the whole sevice from refinery, blending technology, and factual applications. There are many advantages as follows:
Raw materials are widely available, cheap and profitable
Nengxing's equipment is environmental protection, meeting the future environmental-protection requirments for the equipment, and NX facilites are energy saving as well, benefiting our clients all the time.
The lubricant market is huge, and many of our clients are requestiong for it, the earlier you start, the more benefits you will get.